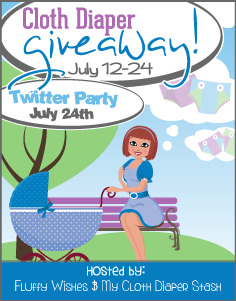 The Fluffy Wishes Twitter Party has finally arrived!!! Tomorrow at 9pm we will be announcing 26 winners!!!!! Woooooo Hoooooo. There are over $1100 in prizes to be given away! Here are some of the details for the twitter party:
When: July 24th 9-10 pm EST
Hashtag: #FluffyWishes
Hosts: @fluffywishesmi @MyCDStash @Edwardsfatty @justaddcloth
TO BE CLEAR:
23 Prizes can be claimed without attending the twitter party, including the top 3 prizes. The winners will be both announced on twitter and e-mailed.
3 Prizes are Mystery Only Twitter Prizes that can only be claimed if you tweet once with the hashtag #fluffywishes once between 9-10pm EST. These prizes are sponsored by:
Boba ($50)

Fluffy Wishes ($70)

Rumpkinz ($21)
If a winner is drawn for a Mystery Only Twitter Prize and did not tweet during the party, a new winner will be drawn. There is still time to enter for your chance to win!!! Go HERE to claim your entries and RSVP!