Many of you may be familiar with Kissed by the Moon, a popular cloth diaper store! They are always having great sales and giving away free goodies! In fact, Kissed by the Moon just sponsored the Fluffy Wishes Giveaway Event too! I don't know about you, but I always love to see how these WAHM's started out their businesses. Take a peek into the interview I did with the owner of Kissed by the Moon!
How many children do you have, and did you cloth diaper them? I have two--a 5-year-old daughter and a 2.5-year-old son. I started cloth diapering just after dd (dearest daughter in online lingo) turned 1 and have been cloth diapering ds (dearest son) ever since he left the hospital (he was born at 26 weeks and we couldn't use cloth in the NICU).
Did you always know that you wanted to Cloth Diaper your Children? No, I never gave it much thought or even knew anything about it until dd was a baby.
How did you first get involved in Cloth Diapering or Learn about it? When dd was young, I was very active in a craigslist chat forum. A lot of the girls in the group cloth diapered and talked about it. The more I found out about cloth, the more I wanted to give it a try! I joined diaperswappers and instantly fell in love.
What was the first diaper you ever purchased? It was probably a fuzzibunz, but I remember when I first started I was also using Preston's Pants, GAD, and Goodmama.
Your Favorite Cloth Diaper? My all-time favorite is a tie between Swaddlebees Simplex 2.0 and Tots Bots Easy Fit.
Essential (Must-Have) Cloth Diaper Accessory? Either Cj's Butter (any form) or Delish Naturals Yum Yum Butter.
Snaps or Aplix? Why? I swing both ways on this one(; The scales tip slightly towards snap, with about 60% but it's very close. When I buy diapers it just depends on my mood at the moment as to whether I go with snaps or aplix. There are benefits and drawbacks to both- aplix will give you a better fit and is fast to put on a squirmy baby, but snaps will last longer and you don't get chains when washing.
How did you come up with the name Kissed by the Moon for your store? When we were first starting out and had decided we were going to open a store, we were thinking about which names would fit and which would let people know easily that we sold cloth diapers. All the more common words like "green", "diaper", "baby" were already taken or overdone so we wanted something new. In order to get a web address that was the same as our store name, the name had to be something totally unique. I also wanted something "different" so that people would remember us and that if we wanted to branch out to other types of products (which we already are with wool and bath products, etc.), we wouldn't have to stick with just diapers. I love nature, especially the sun and the moon and wanted a play on words.
What made you want to start your own store/business? I've always been very independent and like to think that I give 110% towards anything I do. I have been addicted to diapers for five years now and figured that since I was spending all of my free time on chat forums talking about diapering anyway, I might as well give it a go. Many times I said to dh (dearest husband) "it'd be cool if a store did x, y, z" and he finally told me that instead of just talking the talk, I should do something about it. I created a business plan and went from there.
Future goals for Kissed by the Moon? A showroon which has opened! Please see their site for hours and appointments! The hours and appointments will be limited, but only to start. It will give locals a chance to check out new products and smell all of the goodies. Our area currently doesn't have any brick & mortar, so I'm giving it a go. Other plans are just to expand brands we carry. I'm getting great suggestions from customers and trying to focus on more wahm companies based in the United States and Canada.
Most unique feature of Kissed by the Moon? It's got to be Mystery Fluff, which is where someone will pick a gender and size and we will send a surprise mix of diapers. We've since expanded it to include an accessories only package, diapers only package, and "loved", where you get more bang for your buck. We're also very active with our facebook fans and pride ourselves on excellent customer service.
What do you like to do in your spare time (not cloth diaper related)? In all honesty, there's not much free time. I'm still a full time 8th grade English teacher (though my long-term goal is for business to pick up and be able to focus solely on the store), am working on Kissed by the Moon full time, as well as taking care of two kids, two cats, and a husband (though he takes great care of me too)! When I do have extra time I can't help it- I tend to hang out on facebook or talk diapers. I do love to read and have been reading the Hunger Games Trilogy, and we also enjoy the outdoors and traveling to random places.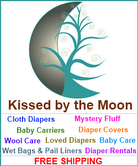 Be sure to follow them on
Facebook
,
Twitter,
and
Pintrest
for the latest sales and updates!
Would you want to own your own Cloth Diaper Store?
If so, what would you name it?
This post contains affiliate links. If you make a purchase using my link, I will make a small commission which I will use to help make this site a better resource for you!