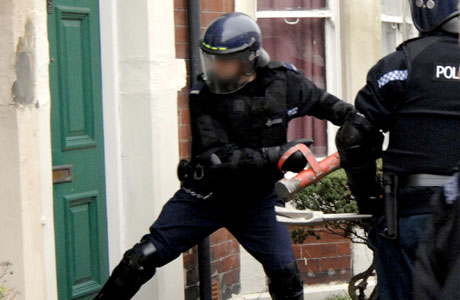 I. Freaked. Out. 6:30 AM this morning, I am woken by a knock at the door! I fly out of bed like a bat out of hell and peer out the window of our bedroom to see a POLICE car! It can't be good when a cop is knocking on your door at 6:30 AM. Hubby descends the stairs to answer the door.
Panic. Sets. In.
Evidently some neighborhood kids wanted to serve us up meat (bologna) and eggs for breakfast this lovely morning. Either that or they were investing in our lawn by helping to give it some"body" and "shine" with the eggs! I know you are are thinking...How sweet of them, why didn't they stop by my house! Well if I see them, I will tell them to make sure they "share the love."
Luckily it was nothing bad, and no family members were in trouble. In fact, I would have even gotten a little humor out of the whole incident had it not been for my slight panic attack and the fact that the knocking woke up my little guy who had actually decided to sleep in. I am almost positive that I was entering the early stages of "fight or flight" with the adrenaline that was racing inside me. Can you tell that I don't hand stress that well?
Let the kids are out for the summer begin!
Has your car ever been hit by eggs, toilet paper, bologna or anything?
What about your house?
Have the police ever had to come to your door? What was the outcome?