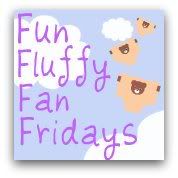 Alright everyone! Have I got some fun for you!!! Do you want to win some Ad Space on my Blog?? I am going to make this quick and simple! Every Friday, I will be asking a question on my Facebook Fan Page HERE (it has come to my attention that Facebook does not allow us to hold contests on Facebook! This is such a bummer! So being the good little girl I am, I will be switching this contest to MY BLOG!!)
I hope you will still join me here in participating because
the first person to answer the question correctly will win 1 Week of Free Advertising on my blog.
I will vary up the time that I post the question each Friday, so keep your eyes peeled for the icon above!
By advertising, I mean that you will get to put a 125 x 125 button up on my blog under the Sponsors section! You can design a button specifically for an event or giveaway! Check out all the ideas for the space below:
Advertising Button Ideas:
A link to your giveaway
A link to an event you are participating in or hosting on your blog
A link to your Facebook page
A link to your blog
A link to your store
A link to anything family friendly that your little heart desires
BUT if you ARE NOT a BLOGGER, you can still participate! I will also give the first non-blogger 10 Extra Entries into my next Giveaway, which is a huge Cloth Diaper Mother's Day event with lots of fluffy prizes!!
HINT: The questions will have to do with Cloth Diapering:-)
Be sure to check in today to see when the question is posted!!!