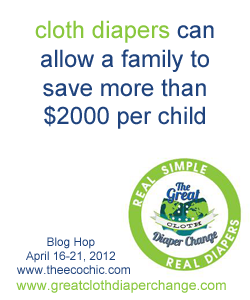 Welcome to Day 3 of the Real Simple Real Diapers Blog Hop! Today's post is about SAVING MONEY!!! Something EVERYONE can relate to!!
I started cloth diapering for many reasons, but by far, my top reason was to save money! Not to mention that I did not want to be running out to the stores to buy diapers at midnight! Nor did I want to clip coupons and match them up with diaper sales...too much pressure for a new mom! And you don't even need to be cloth diapering full time to get the money saving benefits!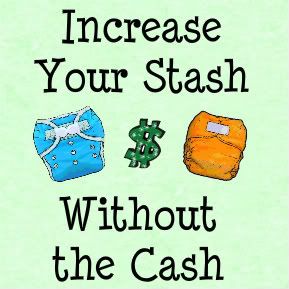 I often hear from people say that the reason they are not cloth diapering is because they "don't have the money" to "start their stash." But I am living proof that there is ways to get diapers for free, or very little money!
Here are my top tips to Increase Your Stash Without the Cash.
Register for Cloth Diapers on your Baby Registry
Many online retailers have Registries for expectant parents. Kelly's Closet, Abby's Lane, and Diaper Junction are just a few. Register for what you like and then stalk the computer everyday like me, watching to see what gets bought! Cloth Diapers are not only practical but they are the gift that keeps on giving! If you are not sure which diapers to register for, they have trial programs such as Jillian's Drawers, Mom's Milk Boutique and Diaper Junction which let you sample a bunch of different diapers. These programs are under $30!
Enter to win Free Diapers from Contests and Giveaways online
Try Used Cloth Diapers
Register for the Rewards programs at different Cloth Diaper Retailers
Many Cloth Diaper retailers provide incentives for loyalty shopping! You can take advantage of these rewards programs and get yourself free accessories or diapers. Kelly's Closet has Diaper Dollars, Buttercup Baby has Buttercup Bucks and Diaper Junction has Stash Cash! These rewards programs give you money to spend in a particular store on anything you would like!
Look for Coupon Codes
Many Cloth Diaper Retailers will periodically offer Coupon Codes for free shipping, free diapers, free samples, or a percentage off your order! Before you place any orders in any store, be sure that you have checked to see if there are coupon codes
Second Sales
Many cloth diaper manufacturers will hold "second sales." These "second sales" offer brand name products at a deeply discounted price. The price is discounted because during inspection, some cloth diapers do not pass the inspection because an elastic may be a tad too tight, the color may not be exactly right, or a snap may not close just perfect. All of these "second sale" diapers have full functionality, and I should know because I have bought several from a couple different retailers! In most cases, I could not even tell why the diapers were considered "seconds." And when I say deeply discounted...I mean deeply discounted. I recently bought an Okeo Popo diaper cover for $2.50 when they are normally $10-$12 each.
Beg, Borrow, but Don't Steal
Another great tip a reader just said was to borrow or lend diapers to a friend in need. Borrowing or swapping diapers is a great way to save money. Maybe you bought some that didn't fit your little one, and a friend did the same...so swap and see what works. Better yet, if you are in-between kiddos, share with a friend. They will be sure to return the favor once they get a stash!!
So What Are You Waiting For? Start Saving Now!
Be sure to check out my post about How to Get Free Cloth Diapers!