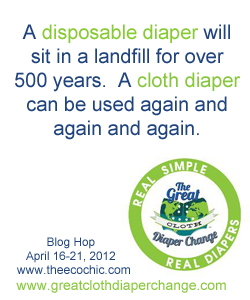 So we all know that Cloth Diapering not only helps to reduce waste that disposable diapers make, but it also provides many environment benefits as well! But have you ever heard of Elimination Communication?? When given the choice of the above topics to write about, I chose Elimination Communication because, honestly, I had never heard the term before, nor had I even the slightest idea of the meaning! I hope that I am not the only one who feels clueless here!! That being said, I am hoping that with this post, I can give you all (and myself) a little lesson in what exactly EC is! (Look I am already a pro using the abbreviation).
Did you know that nearly half of the world's children don't wear diapers...and are potty trained by 1 year old?? Elimination Communication is a fancy word for babies that don't wear diapers for the majority of the time! But t
o be quite honest, the first thing that came into my mind when I saw the term was actually quite comical.
It reminded me of the term sanitation engineer...you are being a hygiene sanitation engineer for your baby! Don't ask me how I come up with these things! Just the way my brain works!
All jokes aside, I would like to dig a little deeper into this "Elimination Communication" style of natural infant hygiene. Elimination Communication

is a

toilet training

practice in which a caregiver uses timing, signals, cues, and intuition to address an

infant's

need to eliminate waste."
If we are talking environmental benefits, this has to top of the list. I mean this is the ultimate form of waste reduction...no trash at all. Check out some of the benefits to using this form of infant hygiene.
BENEFITS:
Very little waste

Provides a unique bond between caregiver and baby

Very little cost

Babies are free from many of the rashes and infections that come with diapering

Babies using EC are usually potty trained much quicker than babies in diapers
Go HERE to see even more benefits of EC.
CRITICISMS:
Not as convenient as diapering

Takes a good amount of time and requires a caregiver willing to participate

May create other "messes" in the beginning (accidents, soiled clothing)

May not be very practical for modern day parents

Is limited during travel and places where access to the facilities are limited
A Little History for all you Buffs
From what I have read and understand, this seems to be more of a science than anything. It involves careful attention to the baby's patterns, cycles, cries, and cues. Ingrid Bauer coined the term in her book
Diaper Free! The Gentle Wisdom of Natural Infant Hygiene, which surprising was only written in 2001! But the concept has been around awhile before that. Bauer was visiting countries like Africa and India where she noticed mother's would carry their infants around diaper-less. Bauer was surprised at the "lack of accidents." She was inspired and amazed with this technique and decided to practice it with her children.
My Thoughts
While I think that this is a fascinating topic and am truly amazed at the ability that infants have to understand this training technique at a young age, I do not think that it is practical in this day and age. More power to those moms who can take the time to "communicate" with their babies through these skills, but I do not have the time or resources to be able to "pull it off." Unfortunately in today's society with many caregivers working outside the home part time or full time, this would lead to inconsistent training. I also feel that our world is so busy and we are always "on-the-go" that again, this would be difficult to enforce here in the United States. I mean what happens on a 3 hour car trip when the baby has to go to the bathroom, and there is no rest stop in site? Or what happens when the baby is up all night sick with diarrhea?
Plus, to be honest, I don't think I could live without my cute fluff!!
While this concept may work for others, it simply will not work for my lifestyle. If you would like to learn more about EC, you can check out www.diaperfreebaby.com.
What are your thoughts on this topic?
Have you ever heard of Elimination Communication before? Do you know of anyone who practices it?